Hotel & Licensed Property
Cherry & Cherry are Chartered Surveyors and Licensed Property Specialists.
Professional advice is given on all licensed premises including cafes; restaurants; wine bars; country inns; taverns; and public houses.
Our advice and guidance to clients is independent and the services we offer include business agency and property sales; acquisitions; valuations; rent reviews; and lease negotiations.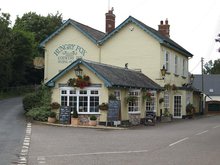 Public Houses are very much in the news at the moment, with pubs closing at an unprecedented rate. Some Licensees are feeling the pinch more than others and, for leasehold properties, the rent is sometimes at a disproportionately high level for the current trading potential. However the problem is not universal and there are still some good trading opportunities. As has always been the case, the skills of the operator are critical. Also of critical importance is the location, the catchment area, the trading potential, the design theme and the trade inventory.
Prior to Cherry & Cherry, Andrew Crossley worked as an Estates Manager for two Brewers, Whitbread Westcountry and Courage South West. Cherry & Cherry are pleased to give preliminary advice without fee or obligation.