History of Cherry & Cherry
Our story begins in 1912 when Philip Barclay Cherry graduated from Toronto University in Canada and moved to Exeter to work for a firm of local Surveyors called Hewitt & Heritage. He became a partner in 1934 and the practice became known as Hewitt & Cherry. However, in 1939 Mr and Mrs Cherry set up their own Business Transfer Agency and Surveying Practice and located their office in part of a beautiful Georgian Crescent known as Bedford Circus. They named the firm Cherry & Cherry.
Although born into a time of adversity, all went well until the early morning of Monday 4th May 1942, when the German Luftwaffe mounted an 'intensive dive bombing campaign' on Exeter City Centre as part of the now famous 'Baederbeck raids' on England's ancient cathedral cities. Number 11 Bedford Circus and the surrounding district were reduced to a smouldering ruin.
Making a new start, Mr and Mrs Cherry set up again on Southernhay West. Their son, Bill Cherry, joined the firm in 1947, when he was decommissioned from the Royal Navy after seeing action in the English Channel as a young lieutenant aboard the fast moving Motor Torpedo boats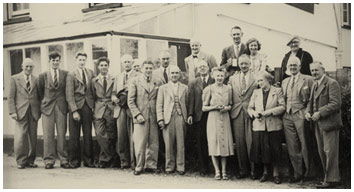 In the years that followed, Cherry & Cherry established their reputation in Exeter and throughout Devon. Well regarded by all who knew him, Bill Cherry was, for many years, the County Sheriff of Devon, Chairman of the Exeter Housing Association and, in his spare time, a skilled boat builder and yachtsman. His values were integrity, honesty and a sense of fair play.
In the 1970's Bill was joined in partnership by two other well regarded Surveyors, Ken Lansley and Richard Shaw.  Bill Cherry retired from the firm in 1989 and in February 1990 Cherry & Cherry was bought out by the Abbey National Building Society. Bill died in 1991.
After a brief period under the flag of J Trevor & Sons, Cherry & Cherry regained their independence in 1993, this time with another husband and wife team, Andrew and Lynda Crossley. Andrew is a Chartered Surveyor and Lynda is a Chartered Accountant.
Bill's widow, Mrs Val Cherry, still lives near Exeter and the new Princesshay Scheme stands on the site of what was once Bedford Circus, whilst Cherry & Cherry have moved across the road to Chichester Mews - just off Southernhay East.
The world has changed much since Cherry & Cherry was established in 1939 but independent business agency and professional property advice, of the kind that our clients need to help them survive and prosper, has not changed over the last 70 years and neither have our core values of integrity, honesty and a sense of fair play.