Exeter Almshouses at Exeter Church Charities
Exeter Church Charities (also known as Exeter Municipal Charities (Church List)) is a collection of various smaller Charities which have amalgamated over the years to become an Exeter Almshouses provider, with 18 houses and flats on two distinct sites.
The intention, which remains broadly the same as that of the original benefactors, is to provide good quality accommodation for older people with an Exeter connection. Our Exeter Almshouses are therefore aimed at helping local people with a housing need, who are usually aged 55 and over and capable of independent living.
As the Surveyor and Clerk to the Trustees, Cherry & Cherry manage the day-to-day running of the Charity. However the Trustees are the ultimate decision makers and are responsible for the medium and long term strategy and well being of the Charity and its Residents. Our Trustees are recruited locally from people with different backgrounds and experiences of life, including existing and former Exeter City Councillors and Aldermen, The Lord Mayor, Doctors, Surveyors, Bankers, Accountants and Clergy. Our current Chairman is Alderman Margaret Danks and, in order to help our Residents and the wider community, all our Trustees generously give of their time and service.  
Lethbridge Almshouses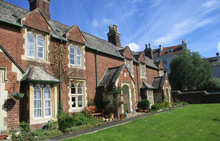 Located not too far from the City Centre on Parr Street, are the Lethbridge Almshouses. These are a quaint terrace of 6 attractive Gothic style properties that were built around 1866. These quaint cottages have been extended and also recently refurbished to a good standard, whilst at the same time retaining their original Victorian features. The Lethbridge Almshouses are suitable for a single person or a couple.
The original founders of what was later known as the Lethbridge Davye Almshouses, were Christopher Lethbridge in 1669 and John Lethbridge in 1701, both of whom left money, houses and land to the Charity. The income from these was to be used to help the poor of the parish and to fund the original Lethbridges' almshouses. These were probably built about 350 years ago, when King Charles II was on the throne of England.
Flayes Almshouses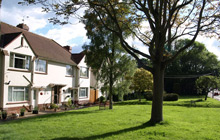 The Flayes Almshouses are located on Pinhoe Road, near some vibrant local shops and a well known thoroughfare to and from Sainsburys and Aldi. There are twelve properties on the site which have been built over a period time and now include 8 one bedroom flats, generally occupied by single people, and 4 two bedroom houses. The Flayes Almshouses are set in pleasant communal grounds, with a newly created and secluded private garden.
The main Founders of what was originally the Flayes Charity go back to just a few years before the English Civil War, when in 1634 the Charity was set up to help people who were less fortunate by Thomas Flaye and then his wife Elizabeth Flaye and it is in their memory that our Pinhoe Road Almshouses are named. However, when the Charity of Eliza Ann Rice later became a part of our charity, it provided the capital for the building of the final four flats, which were completed in 1999.
The Charity of Lawrence Seldon
Established in 1598, this very old scheme is able to give a few pounds to anyone in genuine need, although, as a church charity, the Trustees would like to see more applications coming through the City's local Churches – whatever their denomination.
The Charity of Lawrence Bodley DD
(with Thomas Mogridge & Mary Wotton Copp)
Established in 1899, this scheme is to provide assistance to help the spiritual development of Exeter Incumbents and Curates who are in financial need. For example the Trustees were pleased to be able to recently award a grant to a local Curate to help them with their study costs.
The John Dinham Connection
Through a bequest from John Dinham to the Lethbridge and Davye's Almshouse Charity, we are proud to have our own connection with the great philanthropist of Exeter, Mr John Dinham (1788-1864).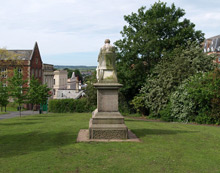 The Statue of John Dinham looking out over the City from Northernhay Gardens
A Christian from quite humble beginnings and of great integrity and religious fervour, John Dinham used the fortune he had accumulated through his own hard work and enterprise to help and encourage those who were less fortunate and able.
When good fortune befell him, he became a generous benefactor of many church societies and he was a pioneer in the founding of Sunday schools. He also built an infant school and set up an educational foundation; he was largely instrumental in beginning the Exeter branch of the YMCA; and was a liberal benefactor of many charitable institutions in Exeter including help for the deaf, dumb and blind and homes of refuge for people in need, which included the Mount Dinham Almshouses. On his death aged 76, John Dinham's remaining fortune was bequeathed to more than 50 charities.
However John Dinham's life had not always been an easy one and early on in his career as a jeweller and silversmith he had suffered the humiliation of bankruptcy; this was on account of continental salesmen selling John Dinham's goods but then returning to their homeland without settling up their accounts with him. Putting this behind him and starting all over again as a humble clerk, John worked hard to re-establish himself. Later, with the backing of some wealthier friends who had great confidence in his abilities, he went onto set up again in business. This time it was a novel idea whereby people were encouraged to take their refreshment from brewing up the leaves of the Indian tea bush. It was thus from his great financial success as a tea merchant that John Dinham was able to repay in full and with interest all the creditors from his bankruptcy and also to become a great Exeter philanthropist and benefactor who touched the hearts and lives of so many people, including the Residents of our own Lethbridge Almshouses.
In 1866 a statute in white marble was erected in Northernhay Park to the memory of John Dinham and you can still see it there today.
2015 Garden Party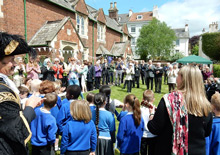 In May 2015, the Trustees held a garden party on the front lawn of the newly refurbished Lethbridge Almshouses. The guest of honour was The Right Worshipful the Lord Mayor of Exeter Cllr Percy Prowse.
Guests were welcomed by Mrs Anita Long, the then Chair of the Trustees, before the Lord Mayor, with the help of local children and senior residents Mrs Stella Smith and Mr Derek Badcott, planted a commemorative rosebush.
The children of Newton Primary School delighted everyone by singing some of their favourite songs. The Reverend Tors Ramsey, from nearby St Matthews Parish Church, closed the formal proceedings with a prayer of thanks and grace, before the hungry guests tucked into a substantial buffet lunch accompanied by sparkling elderflower cordial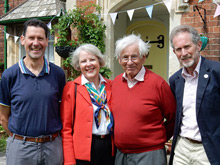 Some of our Trustees past and present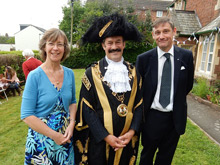 The Lord Mayor with Lynda and Andrew Crossley from Cherry & Cherry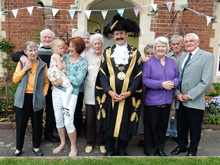 The Lord Mayor with our Lethbridge residents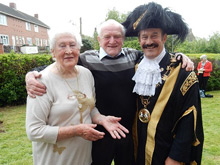 The Lord Mayor with Derek and Stella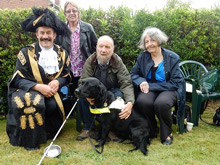 The Lord Mayor with some of our Flayes residents